WEAR BLOCK FEATURES
Our bi-metal wear parts are a combination of high chrome white iron that is bonded to a mild steel backing plate. The white iron working surface has a hardness of 700 Brinell (nom.) that provides the ultimate abrasion resistance for your machinery. The mild steel is easily weldable with limited preparation, acting as a support for the white iron, assisting with impact and abrasion in the most extreme applications.
Depending on the location and requirement of the wear plate, the plate can be welded into place or fixed into place using appropriate bolts to secure the weight and position of the wear plate.
Areas of use include Loader buckets, on GET on the buckets, vibrating screens, Crusher Spider caps, Crusher Spider Arms, the Top Shell, the Bottom Shell, Jaw Crusher Swing stocks.
| | | | | |
| --- | --- | --- | --- | --- |
| Wear Buttons | Chocky Bars | Wear Plates | Wear Bars | Grizzly Bars |
| Wear Donuts | Wafer Strips | Shredder/Grinder Tips | Shaped Wear bars | Shaped Wear bars |
| Boomerangs | Rock Box Liners | Knife Edges | Skid bars | Micro-Ledge |
Chocky Bars
Chocky Bars are a versatile product available in a wide range of sizes. The malleable mild steel backing is notched to aid forming, bending, and cutting and can be formed to accommodate inside or outside contours. Wear bars are easy to use and require no cutting, unlike alternative quench and tempered, or overlay plates.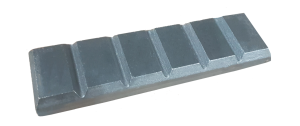 STANDARD WEAR BARS AND BLOCKS
Our Standard Wear Bars and Blocks can be used in a combination of different lengths to create unique layouts and patterns. They are perfect for conveyor corners, edges, and hard-to-reach places where impact and wear resistance are needed.
Shaped Wear Bars
Shaped Wear Bars are available in a range of convenient sizes and are ideal for preventing gouging wear on excavator buckets.
Knife Edges
Knife Edges have sharp edges that retain their sharpness and cutting efficiency. They are cost-effective alternatives to conventional expensive hard-facing methods.
Buttons and donuts
We have a broad range of sizes available from 50 to 150mm. Our buttons and donuts are designed specifically for easy installation in small or inaccessible areas and are the most cost-effective alternative to hard-facing or cutting sections from quench and tempered or overlay plates. Buttons and donuts are the perfect quick fix for localized problem areas such as transfer points.
Skid Bars
These bars are designed to protect and extend the working life of wheel loaders and, excavators and, buckets and dippers.
Boomerangs
Boomerangs are ideal for making up wear protection packages on buckets, rock boxes, truck bodies, and screen decks. Boomerang wear parts eliminate the need to cut expensive sheet alternatives where the shape will inevitably result in material wastage.
Roll bars
Roll Bars are a unique product designed to protect the sidebar leading edges on an excavator, loader, shovel buckets, and dozer side plates. The curved radius provides maximum wear protection while diverting the flow of material.
Wear plates
Available in a wide range of sizes or made to customer requirements, our aftermarket wear plates are commonly used in a combination of different sizes to create optimum layouts that provide the best impact and abrasion wear protection. Ideal for chutes, hoppers, bins, and many other applications, our aftermarket wear plates can be simply welded onto a surface with no pre or post-heating required. All our aftermarket Wear Plates can be supplied with studs or bolt holes for easy installation.