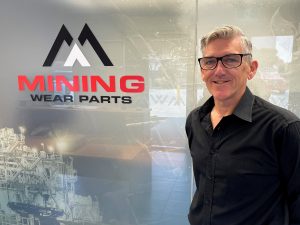 Mining Wear Parts is thrilled to announce the promotion of Mike Allen to the role of General Manager. This strategic move comes as part of the company's efforts to bolster its leadership team and facilitate global expansion.
Mike Allen has held previous positions at Metso, H-E Parts International, ACE Ceramics, and Weartec International, amongst others, and brings a wealth of experience into the new role.
As National Sales Manager he has played a crucial role in Mining Wear Parts' journey by identifying new opportunities, steering the business's strategic direction, and expanding its product range in the market. His relentless dedication and commitment have been instrumental in the company's ongoing success.
In his new position, Mike will work closely with David Macfarlane, the Executive General Manager, to lead and further develop Mining Wear Parts' business across Australia and internationally. This move underscores the company's commitment to delivering premium products and services to its customers, especially those in the mining and crushing industries.
David Macfarlane, who continues to focus on growing the business in new markets and developing supply sources, expressed his enthusiasm about having Mike join the company's senior leadership team.
"Mike brings a wealth of industry experience and excellent people skills to this role, his passion for the growth and development of Mining Wear Parts and its staff is remarkable. I'm excited to be working with Mike at this level, to realise Mining Wear Parts' global potential," said David Macfarlane.
Mining Wear Parts is proud to be 100% owned by Mineral Resources Ltd, a top-50 ASX publicly listed company and a powerhouse in Western Australia's mining and contracting industries. With this strong support, the company is poised for significant growth and success on a global scale.
The entire Mining Wear Parts team extends their congratulations to Mike Allen on his well-deserved promotion, and they are looking forward to seeing him excel in his new role
---
Back to News
Go to Products