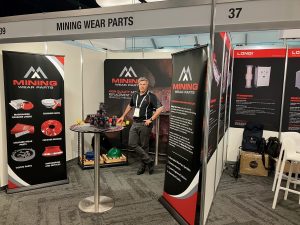 Mining Wear Parts were pleased to participate in AusIMM's Iron Ore Conference 2023.
Taking place in the Perth Convention Centre from 18 to 20 September, the theme of the convention was 'transitioning to a green future,' where key industry experts shed light on the decarbonisation of the iron and steel supply chain. The program also explored broader themes including automated technologies, AI, machine learning and autonomous operations.
Our team were on hand at the Iron Ore Conference to share insights into our innovations in this space and how we're contributing to a more sustainable future.
It was an incredible opportunity to connect, learn, and be a part of the transformation towards a greener, smarter mining industry.
Mining Wear Parts will be attending a number of similar conventions and expos around Australia in the future so keep an eye out to see if we might be attending an event near you.
---
Back to News
Go to Products